Hilary Dilnot and Noteworthy Cards
About Noteworthy Cards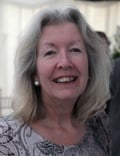 Hilary Dilnot designs and creates all handmade cards at Noteworthy Cards. Formerly a knitwear designer, she still loves playing with colour and texture, and makes exquisite cards often decorated with gems, lace, and mulberry paper flowers, to give a dynamic and dimensional finish. Each card is a work of art and will be treasured by its recipient. Cards are presented in tissue-lined boxes which are decorated with ribbons or toning motifs, to further enhance the sense of occasion. Find them in Vintage or Special Memories.
Noteworthy cards include many designs with a musical theme or background, reflecting Hilary's career as a piano teacher and musician. She is an avid gardener, and many of her plants feature on Noteworthy Photographic cards, taken by Chris Willis. You will also find his scenes of London in this section.
New designs are added on a regular basis. Cards are only produced in very small runs to maintain exclusivity, and to keep the stock fresh and vibrant. We are happy to produce bespoke designs. Please email us for a quotation.
All cards are produced with care and attention to detail, to ensure that you are purchasing a unique and special card which will delight its recipient.
All designs and images are copyright to Noteworthy Cards and may not be reproduced in any shape or form without our permission.
---
Please Contact Us if you have any queries about our products or delivery times. We will be happy to help.
We welcome your feedback and suggestions